BLUE SIDE - ACCESS TO THE LIFE OF A CASTLE IN PROVENCE
Blue Side is THE specialist in advising on the transfer and acquisition of vineyards. Its expertise, which covers the entire Mediterranean region, is endowed with a multidisciplinary know-how to accompany both buyers and sellers.
AND WHY NOT THE TRANSMISSION?
Blue Side is not a leader by chance in its field. Whether it's with a winegrower or a major industrialist, Arnaud and Tom take great care to ensure a personalized approach and support.
"For the seller, it is first of all the assurance of a valuation without pretense and the best possible promotion of his property among a catalog of references displayed on multiple French and foreign channels", explain the two partners.
Their technical expertise on the means of production and the orientation of the markets, then allows the purchaser, in possession of a complete and transparent audit, to project himself while having a clear idea of the added value to come. Or even the prospects of transmission. Because this "seed" that is planted by investing in a wine estate also has the virtue of being able to flourish with its descendants!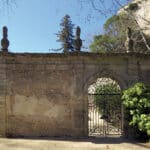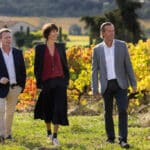 INVESTMENT SECURITY
Arnaud Courret and Tom Verger are successfully pursuing their development in the Languedoc and Rhone Valley, but it is on the outskirts of a vineyard in La Croix-Valmer that Blue Side established its headquarters a dozen years ago.
Settled in the heart of this green lung overlooking the Gulf of Saint-Tropez, the duo of friends from the Var region, who operate in a market of rarities, are still smiling. It's true that in a turbulent political and economic environment, investing in a French wine estate remains a safe haven. It is the guarantee of a real patrimonial security.
LUXURY AND NOBILITY OF A PRODUCT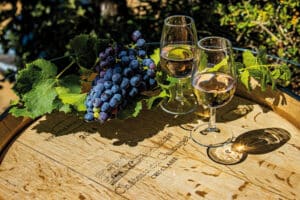 As proof, since Blue Side accompanied the LVMH group in Provence by installing it on the 160 hectares of Château du Galoupet located in La Londe-les-Maures, Bernard Arnault has strengthened his "luxury" portfolio of Var estates with Château d'Esclans. Pernod-Ricard has recently followed suit with a majority stake in the prestigious Domaine Sainte-Marguerite. This confirms, if it were still necessary, the attractiveness of a professional property which is valued in the line of a prestigious vintage.
Better yet! These acres studded with grapes, which combine vineyards, wineries and residential areas where to spend time with family, contain a rewarding dimension, an irrational feeling, which speaks directly to the unconscious.
"It's like a return to the roots for the buyer. Becoming a landowner brings a concrete result that enhances the nobility of the product," say Arnaud and Tom.
Thus, the various appellations of Provence wines, carried by an unalterable rosé in full expansion on the territory as well as internationally, should not make us forget a white wine, including the one made from the Vermentino grape variety, with a commercial and gustatory success, just as dazzling these last years.