BLUE SIDE featured in Rouges et Blancs en Provence magazine, Dec. 3, 2019
BLUE SIDEa player in the excellence of rosé in Provence
Partner of reference in Provence for all types of wine transactions, BLUE SIDE was created in 2011 by two partners, Arnaud COURRET and Tom VERGERThe company's employees come from both the commercial and industrial sectors and are originally attached to the wine industry.
With a varied range of interventions focused on wine sales and acquisitions and consulting, the company, based in Gassin, records between 3 and 4 transactions per year on a portfolio of 35 estates in rotation. Explanations with Arnaud COURRET and Tom VERGER.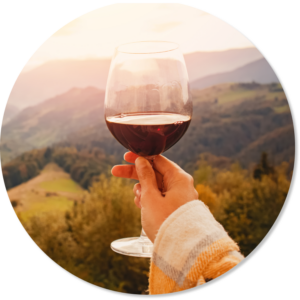 Blue Side has a broad scope of intervention?
We work with various structures, from small family vineyards vinified in cooperative wineries, to intermediate wineries with private cellars, to large-scale production operations and renowned estates.
Our added value is based on the ability to carry out a business transfer while supporting it with technical expertise in the wine industry and support in areas such as marketing, sales, etc...
This field of intervention is well illustrated by two recent transfers, that of Domaine de Roucas in Entrecasteaux, a property with bucolic charms of a dozen hectares including about 5 hectares of organic vines in AOP Côtes de Provence, operated in private cellar. Also remarkable is the Castle of Galoupet in Hyères, Cru Classé 1955, flagship of the Côtes de Provence with 70 hectares of vines on a 160-hectare estate. Blue Side brokered the sale between the Shivdasani family and the LVMH during an operation that lasted more than a year and marks the remarkable entry of a luxury giant in the wines of Provence.
This latest sale illustrates the growing reputation of Provence?
Provence, an ancestral wine-producing region, has seen the international reputation of its wines grow recently and arouse the interest of investors. Today, in the top-of-the-range segment of Provence wines, whose typicity is intrinsically linked to the identity of its terroir, rosé is at the top of the list.
However, the reds and especially the whites of Provence have been on the rise in recent years. This new situation is linked to a production of excellence and a growing demand.
The arrival in Provence of big names in the luxury wine and spirits sector such as Moët Hennessy, also contributes to the development of this international market. The entire wine industry in Provence naturally benefits from this rise. The clients' objectives have evolved. Previously focused on the acquisition of land, they are now also interested in investing in a quality product that is recognized worldwide. It should be noted that the majority of our buyers are of French origin. But the presence of European, American or Russian clients is noticeable. On the other hand, Asians, who have little interest in rosé wines, have not yet entered the market, but the CIVP (Conseil Interprofessionnel des Vins de Provence) plans to increase its communication in Asia and the Pacific by next year to conquer these markets.
Are you advocating for a collective dynamic?
Through the action of all, each according to his possibilities, the wines of Provence and its rosés in particular, must retain a privileged place. In the framework of our activity, we notice that many producers, whether they are new winegrowers or have been established for a long time, have difficulties in finding support or partners outside the industry's own bodies. However, in order to face an evolution of such a magnitude, remaining isolated is illusory. It is with this in mind that we encourage the propagation of a collaborative dynamic between all.